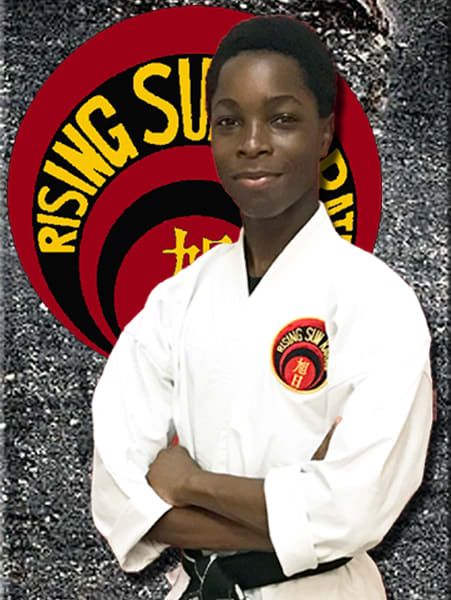 Sensei Haye
Karate Instructor
Sensei Alexander Haye has been training at Rising Sun Karate Academy since he was 6 years old. He earned his Black Belt in 2015 and his Nidan or 2nd Degree black with the title of Sempai in 2018 and his Sandan or 3rd Degree Black Belt along with the title of Sensei on June 19, 2021. He has been assisting our upper rank Instructors for several years and continues to develop as a young Instructor.
Sensei Haye is also one of our competitors and is a great role model for our kids' classes. He has competed in multiple local and regional tournaments and has won first or second place in all three divisions: Kata, Weapons Kata, and Sparring. He is also a member of the RSKA demo team which has performed for multiple high-ranking masters and guests.
He can often be seen during our Little Rangers classes and Junior classes making corrections on a younger student with a friendly smile and gently nudging the students form until it is exact.
Sensei Haye consistently demonstrates the values of hard work, motivation, and the ability motivate our students. We all look forward to seeing him develop even further as an Instructor and as a martial artist.
Sensei Haye is available for private lessons. Ask for more details.
Sensei Haye's favorite quote:
Success is not final, failure is not fatal: it is the courage to continue that counts. – Winston Churchill